Largo, Florida, 10/15/21
Hello everyone!!  So, I decided to write this press release myself, instead of going the traditional route - which would mean having someone else write it in 3rd person.  Since I produced this record myself and released it myself, why not write the press release myself, too?  I'm not saying that in a boastful way... it's just the kind of reasoning that has gotten "Escape" in the ears of the public.
Hey guys, first and foremost I want to give God glory for helping me make this record happen.  I'm listening to the mixes right now, and I have to say that the charm we captured on songs like "Sanibel Day" and "Siesta Key"... guys, I couldn't have done that on my own.  I had help from Above pulling this off.  The way everything has so beautifully come together could have only happened with God.  And the beautiful sunset on the album cover is completely real, and I feel like He did that just for us.  
Yes, I wrote a few sarcastic lyrics for this project, but my hope is that despite my many imperfections, God can use this album to help people escape their stress and find that there is more to life than the daily grind.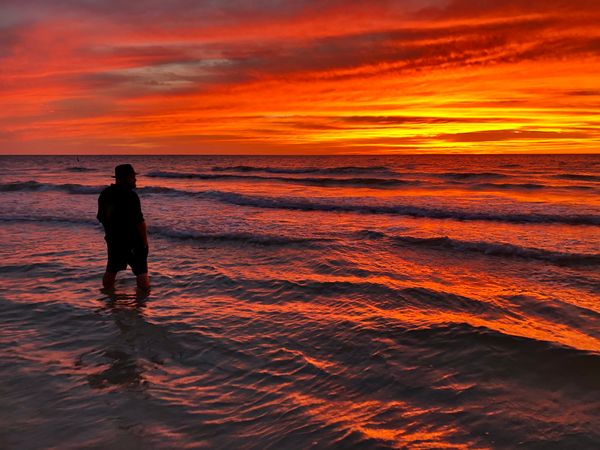 I'm just floored, and feeling kind of emotional as this has come together.  I checked early this morning, and saw the album on iTunes and Apple Music.  By the time I got up later in the morning, it was on Spotify, Napster, YouTube and more.  I just can't believe this.  I have always dreamed of having my own album released everywhere, but it absolutely never came together until now.  35, to me, seems like an advanced age to be launching a career as an artist, but the truth is that I was never ready until now.  And even still, I'm going through the process of becoming who I need to be.
All that to say, guys, please check out my new album "Escape".  I have a page on my website that lists some of the places you can stream or buy it.  Physical copies are coming, and pre-order is available for those.  I'll also have them with me at shows once we have them in stock.
"Escape" is designed to help you put on your headphones and escape to your own private island!  It's an album about getting away from your stress and remembering what really matters.  To me, that kind of freedom is what the Florida life is all about, and you can hear that echoed in songs like "Sanibel Day", "Siesta Key" and "Island Time".  "Sanibel" and "Siesta" were both written during a stressful time period, and are about real experiences getting away from my troubles in some of America's most beautiful places.
"My Every Dream" is a song I wrote for my wife, and it's one of my very favorite songs on the album.  "Quit My Job" and "Day Off" are further reminders that there's a lot more to life than work!
I plan to soon release content that will go more in depth about this album, the meanings behind the songs, and what went in to the production process.  But a few facts I'll go on and give you are that the album is entirely self-produced.  I played all the guitars, bass and mandolin... programmed drums and synths.  I also did all the vocals and mastered.  Daniel Rivera created the string section for "Sanibel Day".  Though I recorded 9 or 10 songs for this project, only 7 made the cut... and they're the perfect 7 tunes to complete "Escape".  Norma is co-writer on a couple of the songs, and designed the album cover with me.  Though this album took a year and a half to make, I'm really happy with how beautifully it has all come together.
Thank you for reading this, and for listening to this record!  More content is on the way, and I believe that the "Escape" journey is far from over!  I sincerely hope that you enjoy this music that I poured my heart and time into!
God bless,
Daniel Childs