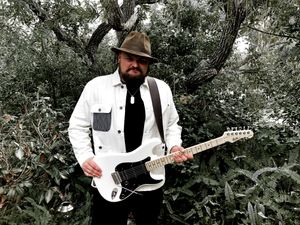 TESTIMONIALS FROM RECENT CLIENTS
"Daniel is amazing! He was punctual and fun to work with. He made my Mom's 80th birthday a very special and memorable night! I would highly recommend Daniel for birthday parties and weddings. We will definitely have him out to our home again. Bravo Daniel Bravo!"
- Janet in Tampa, FL
"We had the pleasure of having Daniel provide the live music entertainment at my wife's 40th birthday party this past weekend. Everyone really enjoyed having the live music and commented on how good it was. He sang a great mix of music and kept everyone entertained the whole evening. I would definitely recommend him and I'm certain we will get in touch with him again for our next event!"
- Jarrett in St. Petersburg, FL
"Daniel performed for my husband's 50th birthday party at our home. He arrived on time, set-up quickly, was friendly, hard-working, and professional. His voice was so strong for the entire 4 hours of the event, and his music repertoire satisfied all of the crowd! I will definitely hire him again and I can't recommend him enough - he created a natural, live music atmosphere that felt like an intimate, private concert. Thank you so much!!!"
- Elise in Tampa, FL
"Daniel was outstanding and perfect for our house party! He had great music selections for our diverse crowd of friends and family. Thank You again Daniel!"
- Stacey in St. Petersburg, FL
"Daniel played for about 60 guests at my wife's 50th birthday party. I received excellent feedback from guests. Many asked my for his contact info for their events. Outstanding!!"
- Dave in Treasure Island, FL
"Daniel performed at our Christmas Party two years in a row. He was punctual, played excellent music, and over-delivered on his performance. I highly recommend him."
- Larry in Redington Beach, FL
"Awesome and will recommend over and over!"
- Estella in Treasure Island, FL
 
TESTIMONIALS FROM FANS
"I would highly recommend Daniel to provide excellent live music for your parties, weddings or any event.  He has an amazing voice, a great stage presence and he's a naturally talented musician.  I had the pleasure of seeing him at a restaurant on the beach in Clearwater and also at a wedding.  His music made for several memorable evenings.  Let him add the icing on the cake of your carefully planned event.  You won't regret it."
- Lisa, Florida Visitor
"Best ever! Just one man with one guitar. His original song "Siesta Key" reminded me of "Please Come to Boston" but with a tropical flare. His melodic acoustic guitar playing was complimented by his wide-range singing. The music I heard spanned four decades of my own life. Lots of memories! How can one person with one guitar be so talented? What a nice guy... very personable."
- Barbara, Florida Visitor