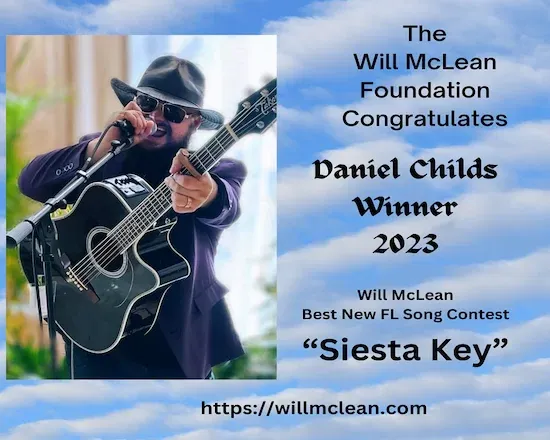 Largo, FL, 12/8/22
This past week it was officially announced that Daniel Childs' song "Siesta Key" won 1st place in the legendary Will McLean New Florida Song Contest for the year 2023.  The contest was originally founded by the late "Father of Florida Folk" himself, Will McLean, in the year 1992.  Childs now joins the all-time list of winners for the 21st year of the contest.
The song, "Siesta Key" was written by Daniel Childs and initially released as a single in June of 2020.  A remastered version of the recording was released in October of 2021 as part of Daniel's debut album, "Escape".
"I wrote 'Siesta Key' during a time of intense stress," Daniel wrote for the official contest article.  "The job I was working at the time was stressful, and its demanding nature would often leave me unable to feel at ease, even when I went home at night.  My only real escape from stress was to explore the beauty of Florida with my wife (Norma).  When possible, on weekends we would make overnight trips to various places we were interested in.  That's when we discovered the beach town of Siesta Key, and I fell in love with the vibe of the place. 
"Siesta Key' was the first song I completed in that time period, and it's one of my very favorites to sing. My favorite line in the song is in the second chorus.  It says 'life is crazy, life is short, and life feels wrong… until you find where you belong.'  I think that's a truth that Siesta Key, Florida helped me realize."
Childs also placed 8th in this year's contest with his song "Sanibel Day", another anthem written about his weekend getaways.  Both songs appear on the 2021 album "Escape", and have become very popular among listeners.
Daniel will subsequently be playing at the legendary Will McLean Music Festival this spring, along with several of Florida's great folk artists.